Jump to:
2015 | 2016 | 2017 | 2018 | 2019 | 2020 | 2021
---
"The Largest Population Center In Oneida County"
---
First: Our new hospital does not have to be "downtown", or even "In Utica". This according to the New York State legislation that promised Oneida County $300M for healthcare transformation projects. Please consider this...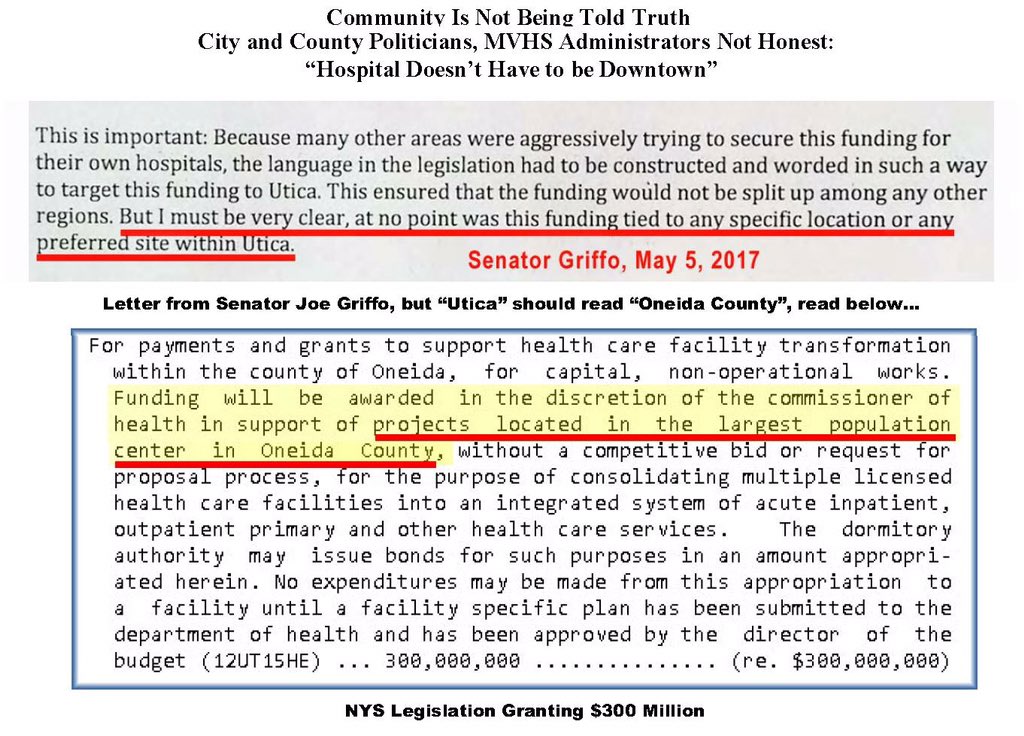 Next, recall the New Hospital Site Study, finally released on as part of the New Oneida County Hospital SEQR DEIS. This study references the legislation which carried the "population center" langauge. In doing so, MVHS gave MVEDGE the instructions to search for Potential Sites within a 5 to 10-mile radius of Downtown Utica; specifically worded, "5 and 10 mile radii were drawn around the city of Utica and a number of properties were identified for initial evaluation."
---
As far as the "largest population center in Oneida County", where the people are located who need the healthcare, please see below...
Deep Dive (PDF), plus the Centroid Of (3) Population Centers
---
Map'em: Geographic Population Centers
& Sites Locations
Here are the coordinates and Google map locations for...
Oneida County's Population Center Point:
43.147653, -75.359291
Utica's Population Center Point:
43.093806, -75.233319
MVHS's "Three County" (Oneida, Herkimer, Madision) Center Point:
43.103013, -75.365750
"Center of Centers", the averaged center of the above three center points:
43.1145, -75.31892
St. Luke's Campus:
43.097623, -75.276715
#mvhsdowntown Concept:
43.10305, -75.23579
"Old Main" Campus:
43.103516, -75.255189
St. Elizabeth's Hospital Campus:
43.083218, -75.267082
Faxton Hospital Campus:
43.091390, -75.258896
Try it! Once you find a location, enter your home's street address and search for directions (and time) it would take you to arrive a "hospital" site location.
---
"Has to be downtown" is only a local effort by; Mohawk Valley EDGE And A Few Special Interest Groups Supported By Politicians, not the state legislation, AND Not The Hospital Board.
Have a look at their Site Study, it appears to be very subjective, replaces facts with misinformation, but that's not surprising as it is a study that they had to "Deny Rigging". Look at the actual "data" that's being used to place our new hospital into downtown, its these words in these Foiled Emails.
As far as the "largest population center in Oneida County", where the people are located who need the healthcare, please see below.
Deep Dive, plus the Centroid Of (3) Population Centers
---
Consider: Cornell's Program on Applied Demographics and their New York State's "Public Use Microdata Areas" (PUMA) study
---
Consider this view: "However, they said neither "Downtown Utica" nor "City of Utica," nor even "largest population city" nor "largest population municipality," which would have forced the hospital into Utica. That would have been risky for site selection considering that Utica is only 17 square miles in size. The use of the word "center" does NOT confine the site to one in Utica." (Ref.)
---
MVHS's New Hospital DEIS has been released! A Study was done (not released to public unitl now, after three years!), but now the public can finally read it (DEIS Appendix D), the Hospital Site Selection Process Summary Memorandum, as they call it.
This study found 12 possible new hospital locations, but they proposed just three; two either have or had a hospital, while a third would create a new site- in Downtown Utica's "Central Business District"...
[1] St. Luke's Campus: 1656 Champlin Avenue, New Hartford, NY 13413
[2] Old Main Campus: 1213 Court Street, Utica, NY 13502
[3] Downtown Site: 438 Columbia Street, Utica, NY 13502
Sadly, the public has never been offered a scientific or mathematical explanation of where our communities only hospital should be positioned. Seems the goal should be to make accessibility a geographic avaerage for all of those in the Mohawk Valley Health System's service area. For example, a study we will call, "The Quickest Hospital" examines hospital location and the travel distance and time for surrounding populations throught the United States.
(Note: Also troubling, the proposed downtown site would be a site that would be susceptible to possible mandatory evacuation. Why? Becuase the CSX Railroad Tracks Are Just 1,400 Feet Away. Downtown hospital advocates have minimize this railroad risk and done so even while trains travel faster, pull longer loads, and care more dangerous cargo.)
---
Please consider... The Classic method for mapping population density, and the simplest, is based on statistics for administrative units... putting density in terms of inhabitants per areal unit. If the administrative units are large this "relative" method still will not give a satisfactory result. In order to make the units smaller one can cover the land with a grid and count the population of each square, and then compute the density. (Ref.)
---
May 12, 2019 - As we look for facts, peel-away the politician's words and discover the Largest Population Center Of Oneida County. Visit the mathamatical Population Center Of Oneida County on Google Maps.
---
September 1, 2018 - Hospitals, like Oneida County's proposed concept and per the legislation, should be placed by the population...
A population center cannot be defined by merely stating zip codes. While they can help to tell a story, much more data and math is required. Join the conversation as #NoHospitalDowntown Talks Population Center Regarding Oneida County's New Hospital.
---
Imagine if everyone within our region had a medical emergency at the exact same time, all of us required a hospital, so what would be the best location for the hospital?
#NoHospitalDowntown Is Discussing Population Center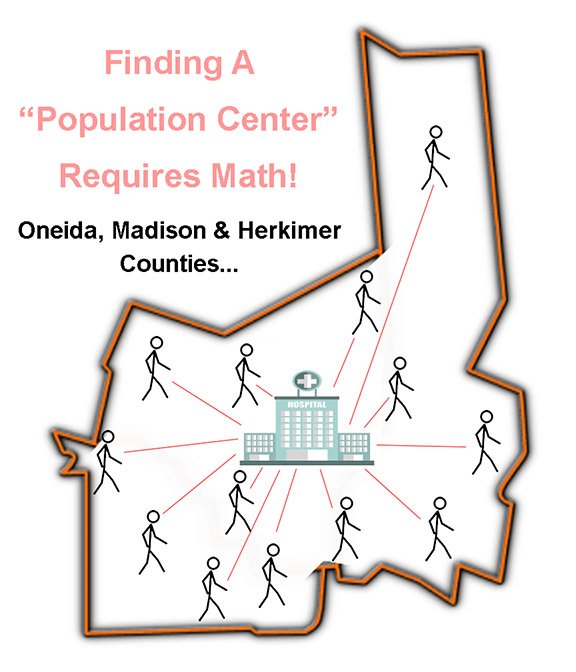 The hospital should be positioned so each person has an equal opportunity to arrive quickly, right? So one would plot everyone's travel distance/times and average the routes. Using some math and geometry the "center of the population" is found. This is where a community's "equal opportunity to arrive at medical care", a.k.a "hospital location", should be. There are other issues too, but the better questions might be; "What are the population centroids of; Utica, Oneida County, and the "Oneida-Herkimer-Madison Counties" hospital service areas?
Oneida County and City of Utica residents deserver a science and math-based hospital location. Perhaps one developed by professionals such as David Burgoon, or an accomplished scholar like Mark L Burkey. Not merely politicians and economic development folks seeking a massive project.
---
Consider this - "A choropleth map is a thematic map in which areas are shaded or patterned in proportion to the measurement of the statistical variable being displayed on the map, such as population density... Choropleth maps provide an easy way to visualize how a measurement varies across a geographic area or show the level of variability within a region. A heat map is similar but does not use geographic boundaries."
---
The hidden metatag "description" text on the NYS Department of Health's website reads:
"NYSDOH and DASNY announce the availability of HCFTP funds of up to $300 million: Oneida County, as established pursuant to Section 2825-b of the Public Health Law (PHL), for capital project(s) located in the largest population center in Oneida County that will consolidate multiple licensed health care facilities into an integrated system of care (including acute inpatient, outpatient primary and other health care services)."
Keyword metatags used: rfa, 1505060325, grants gateway, DOH01-Oneida-2016, oneida county, licensed health care facility consolidation(s)
---
JUne 11, 2015 - In a "Report of the Office of Primary Care and Health Systems Management Activities," Mr. Kraut introduced Mr. Sheppard to give his report on the Activities of the Office of Primary Care and Health Systems Management, He [Sheppard] also explained there is another $300 million in capital to consolidate facilities in Oneida County, to create a state of the art medical campus. It is located in Utica, the statute speaks to the major metropolitan area and in Oneida County Utica is the major metropolitan area. To build a state of the art hospital and medical campus there that will create a strong regional system of care in an area that needs it. "
Mr. Daniel Sheppard, Deputy Commissioner, New York State Department of Health
---
May 12, 2016 - In locating a hospital, you would look at the population density as well as future trends. Since the hospital and government leadership will not provide site selection studies, we are looking for the information on our own.
From the population map below, you will see a significant population is within South and West Utica, and suburbs to the south and south-west.
Why have the folks pushing downtown, Look Who's Pushing The Downtown Hospital Concept, not offered citizens the information to support their claims?
---
References:
Software Review - Understanding Statistical Data for Mapping Purposes, download the PDF.
Study - Mapping Population Density
Study - Geographic Accessibility to Hospitals in the United States: Rurality and Insurance Coverage
Book - Foundations of Location Analysis (International Series in Operations Research & Management Science) 2011th Edition
Blog Post - Mapping the population density of New Zealand with QGIS, SQLite and TileMill
---
You can help, please join us on Facebook #NoHospitalDowntown. Also consider adding your voice to Hundreds of People Saying, "No Hospital Downtown". Get to know BUD, that's the future of the Columbia Lafayette Neighborhood!
---
---